why join magventure
Looking for a job that impacts people's lives?
Working for MagVenture is more than "just a job" when what we do improves the quality of life for thousands of people around the world who experience serious challenges with mental health.
Great team
Collaboration between countries and different cultures
Multi-cultural environment
Subsidiaries in the US, Germany, United Kingdom, Brazil, and China
Solid growth, high ambitions
Largest market share with new markets to explore and strengthen
FAMILY OWNED COMPANY WITH A GLOBAL REACH
High ambitions
MagVenture is proud to be world market leader within the TMS industry. Based in Denmark, we continue to develop new products in close collaboration with the international brain research community and therapeutic world. All for the benefit of people coping with mental and physical illness.
Watch this video to better understand how it feels to be part of MagVenture.
Working at MagVenture
Higher purpose
Working for MagVenture is more than just a job as your efforts will make a difference for thousands of people all over the world with mental health issues.
Global mindset
With subsidiaries in the USA, Brazil, the UK, China
and Germany, and a distribution network in more than 60
countries – our reach is global.
Personal impact
We have a flat organizational structure where each individual has a high degree of autonomy and personal impact on decisions.
Technology leader
You will get the opportunity to work together with some of the brightest minds within TMS technology.
5 reasons to join MagVenture
Give hope to those suffering from mental illness such as depression
Most of us know someone who suffers – or have suffered – from depression. Perhaps we have even experienced it ourselves. Now try to imagine working for a company that can provide hope and relief to some of these people.

Prepare to be amazed!
TMS has already helped save hundreds of thousands of lives from a debilitating, sometimes even fatal, depression. But we have only seen the tip of the iceberg. Currently, hundreds of studies are being conducted around the world, and discoveries are – and will be – made that will undoubtedly expand the possibilities of TMS more than we can even begin to imagine today.

Be part of a global movement
At MagVenture, we do not see the company as an entity of its own, rather as part of a community – of an amazing global movement. In this community, there are researchers seeking to get a better understanding of the human brain or explore the efficacy new treatment paradigms. There are doctors who wish to give hope and relief to those of their patients struggling with depression. There are people who want to help break down the stigma and misconceptions pertaining to mental illness and help spread awareness of TMS. And then there are the employees. When you join MagVenture, you will quickly start to experience this yourself: the chance to be part of something bigger. Of making a difference.
Global company with strong family roots
Flat Danish structure
You will probably notice it the moment you walk through the door: Open doors, an informal tone, a sense of community. At MagVenture, we believe that everyone's opinion matters. Wherever you see possibilities for improvement or you simply have a good idea, you are encouraged to make suggestions. Top management is not far away, they are right next to you, and your input will have an impact.

Independent decision making
We believe in flexibility and we believe in freedom with responsibility. Thus, you will have many opportunities to set your marks and let your voice be heard.
Solid growth, high ambitions
Largest market share
30 years of hard work and ambition have helped place us where we are today: as the world's largest TMS manufacturer. This also comes with a very versatile product and application portfolio. But we have no interest in slowing down, on the contrary! It is safe to say that our ambitions are higher than ever, and we hope you feel the same way.

New markets to explore and strengthen
Although we have a very solid presence and position in many countries and regions, there are still markets where the potential has not been fully utilized.

New approvements on the way to keep us ahead
Our mission to improve mental health and expand access to TMS worldwide also means expanding treatment options. We have, from the very beginning, been strongly committed to supporting TMS researchers and you will also, firsthand, get to witness history being made, and follow the journey from idea to actual approval of a new treatment.
Multi-cultural environment
Danish headquarters near Copenhagen
We are conveniently located just North of Copenhagen.

Subsidiaries in the US, Germany, United Kingdom, Brazil, and China
With subsidiaries in many parts of the world, and possibly more to come, we can assure a diverse and fun work environment.

+60 distributors worldwide
Our distributors are extremely important to us. Not only do they help generate revenue through various marketing and sales initiatives, their extensive knowledge of local markets and trends are also very valuable. And, as an added value, they give us invaluable access to many cultures and environments.

Expand your career opportunities
At MagVenture, you have many opportunities to grow. You can take on new responsibilities or fields, or even pursue new challenges in one of our subsidiaries. There are many possibilities if you need them, and seek them.
Great team
Collaboration between countries and different cultures
Joining MagVenture is a truly international environment where you will have colleagues from many parts of the world.

A deeply rooted commitment to support each other
With our flat structure and shared goal of expanding access to TMS also comes a strong sense of team spirit and commitment to help and support each other.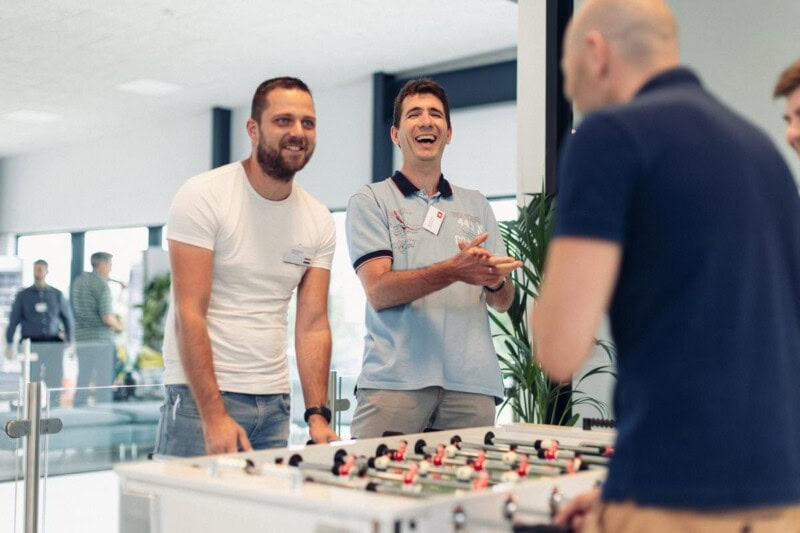 Get in contact
Get in contact with MagVenture